Reusing old Sarees to make Indo Western Dresses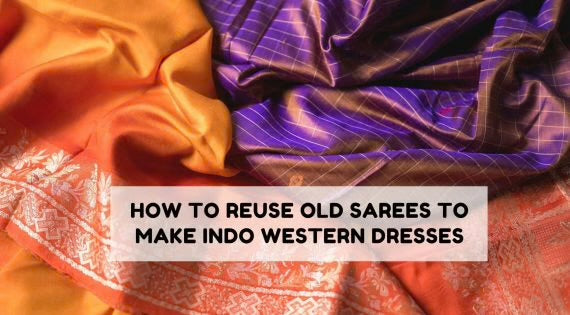 How to Reuse Old Sarees? Or what to do with the sarees after wearing them a couple of times? Doesn't this question bother you as well?
Lately, a lot of my friends and clients have shared this concern with me that they want to reuse and repurpose their old sarees.
I guess we all exercised this particular, one common activity during lockdown….
CLEAN THE CUPBOARD!!!!
And one most common thing which we all discovered there were those old unworn sarees resting inside.
Yes, and we won't wear those anymore, because maybe it doesn't match our style anymore, or it's not practically suiting us, or maybe we find them boring now as simple as that or whatever we want to tell ourselves but yet there is another set of counter reasons for not getting rid of them as well. After all, we have our sweet memories or emotions tied up with it, our first wedding anniversary or first gift from our husband, or mum's old belonging, etc.
But as we become more aware and conscious of decluttering and want to practice a minimalistic lifestyle, yet we don't want to part away with these special belongings.
So what do we do with them? Can we reuse old sarees to make Indo Western Dresses?
The answer is "Yes" we can reuse old sarees to make Indo Western Dresses.
How to Reuse Old Sarees To Make Indo Western Dresses
Since I personally sail in the same boat as well, I can relate to that emotion. At AMAR KOSA we have come up with the solution of reinventing these old sarees as per the modern woman's style. We convert these sarees into indo-western dresses for you and maybe can squeeze in a bit for your little one. If not, then a bag out of the leftover saree. So no longer will you feel that you can't use your precious.
Whether it's an old traditional silk saree, linen saree, or a flowy georgette one, each one can be turned into a unique number. Depending upon the occasion or event we can make it look party wear or casual. We can mix and match different fabrics with it or add some accent color to pop it up if needed.
The ideas can go countless. Solid sarees can be clubbed with some prints or stripes or checks or vice-versa. The whole point is to not give it a typical saree-made dress look, maintaining the aesthetic and grace of it.
I've made dresses from some of my sarees here, to give an idea as to what all we can do with different types of sarees- different designs of sarees and different varieties of fabrics.
Indo Western Dresses by Reusing Old Sarees
Dress 1
The first one is a black and orange cotton saree. I've really enjoyed wearing this saree a couple of times and I'm equally happy to see the way, its dress has turned out. Since it's nice sheer cotton, we have designed it in a double-layered dress.
The inner is in plain black cotton mulmul with a saree border at the bottom hem. The top layer is like a jacket, which can be teamed up with jeans or leggings as well.
Dress 2
The second saree is a brand new cotton dhakka saree. I picked this saree from an exhibition with a lot of excitement as it instantly reminded me of my mother's saree collection. But somehow when I wore this saree it looked really dull on me. With the emotions attached to it, I surely would not want to give it away.
A dress in this saree has really been a perfect solution to the situation, the dress looks really smart and cool, which surely I'm going to wear. Since the saree material is very thin, we have used a cotton khadi lining inside to give the right strength to the dress. The main Pallu and borders of the dress are placed in a way that it gets perfectly highlighted. The little flower ties at the waist add just the right amount of quirkiness and brightness to this dress.
Dress 3
The third saree is an orange tissue/cotton saree. This was again a brand new saree, which I picked up from my mum's closet for its lovely color, but found it too fluffy when I tried to wear it.
It has these beautiful temple-style borders which we have placed right at the center of the dress, which is the main eye-catching feature of the dress.
Combining a traditional border with an absolutely modern silhouette with noddle straps gives this dress a very contemporary look. A perfect dress for your Diwali or for the upcoming festival season.
Dress 4
The fourth dress is made from a lovely silk saree with small checks. This was also my mum's saree, it's also a brand new one just sitting in my cupboard for so many years. My mum never wore it because it was checks and I loved it because it was checks:) but somehow I never found an occasion to wear it.
Now that it has been converted into a dress, it gives me more opportunities to wear it. We have given it a very modern look to the dress. It's double-layered, the inner dress is made with plain silk georgette with noodle straps and saree border at the bottom hem.
The top layer is an asymmetric jacket made from the saree. There's a small little scarf also made with the dress, we just had exactly that much fabric left from the dress, which we converted into this scarf and gave it a saree border all across and red tassels. The jacket is thoughtfully designed in a way that we have used up all the lovely hand-woven borders which it had. This jacket can be teamed up with jeans as well to give it a more casual look.
Dress 5
The fifth saree is a plain ombre dyed orange silk saree.
This saree had a heavy pallu and a border running throughout. We have used the pallu in making a tank top and the saree has been converted into a kali skirt with flare. This was my old saree and I had spilled a few things on it.
By making a kali skirt, we smartly eliminated the portion which was spoilt and used up the clean part of the saree for the skirt.
Wrap Up
So from old saree to brand new ones, we can use these old possessions of yours smartly and help you give it a more usable and meaningful version to it. Thus giving a more user-friendly face to your memories.
Yes, that's right!!! Time to clean up that closet now.
You can take the idea to reuse old sarees from this blog post.
But if you find it difficult and you are in Bangalore you can contact AMAR KOSA. We will surely bring something best out of your beautiful saree.
Start picking up some of your unused sarees and let us turn them into beautiful dresses.
|
Posted on November 07 2023